100 Days Project to cultivate a creative practice - Day 39
Day 39 of my 100 Day Project to create 100 new art pieces in the next 100 days to cultivate a creative practice. I'm definitely not making every single day, but I'm making most days, and I'm able to keep up with one thing per day. It's really helping me learn new skills as I push myself on this! I recently realized that I can create individual elements, like flowers, and then layer them together and rearrange them in interesting ways to create the complete compositions. So you'll see some of that in upcoming days, as I play around with this! 
How can one actually know
how to find the hidden treasure
In our everyday lives
-
Words cut from:
+ Bullshit Jobs by David Graeber
+ The Alchemist by Paolo Coehlo
+ Teaching to Transgress by bell hooks
Click here for more collage poems and watercolor art you can add to your art collection.
I'll be sharing each new piece here as well as on instagram, so follow along if you'd like to see an evolution of art, and let me know if you decide to start your own project!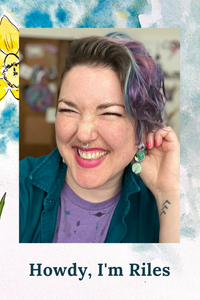 Thank you for being here 👋 I'm a queer artist who has intentionally built a life where I can work remotely and travel the world. Along the way, I'm trying to figure out how to be a good human.

I want to work together to help you create the world you want to live in. I write, make art, and create community spaces for us to to share thoughts, feelings, & opportunities for us to explore together. Being human is hard, but we can make it easier for each other. I believe in us. 💜