Launching my first 100 Days Project
I've been in a creative rut, so I've decided that to re-commit to and deepen my creative practice, I'm going to start a 100 days project! "What is a 100 days project?" you may ask. It's basically what it sounds like: pick something and do it for 100 days. It was started by artist Lindsay Thomson, and you can read more about it on the website here. 
Personally, I know that when I give myself a project and create external accountability around it, I'm more likely to get it done. This method isn't foolproof, but it's generally better than just telling myself I'm going to get something done. 
So, here we are. For the next 100 days, I am going to create a new piece of art each day. 
My loose goals for this project are:⁠
- Improve my digital watercolor skills⁠
- Improve my drawing/sketching skills⁠
- Re-commit to my creative practice⁠
I'll be posting each day's update here and on my instagram. I'll also email out a weekly round-up to my mailing list, so make sure to stay in touch if you want to see what's going on. 
⁠
I'll check back in with my loose goals along the way and see how I'm doing against them or if anything new is taking shape.⁠
⁠
Follow along for the journey, and let me know if you start your own 100 day project! We're all creative beings in one way or another, and it can help to create a space to be intentional about that. I'm looking forward to this helping me ⁠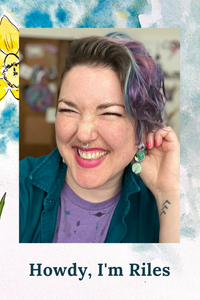 Thank you for being here 👋 I'm a queer artist who has intentionally built a life where I can work remotely and travel the world. Along the way, I'm trying to figure out how to be a good human.

I want to work together to help you create the world you want to live in. I write, make art, and create community spaces for us to to share thoughts, feelings, & opportunities for us to explore together. Being human is hard, but we can make it easier for each other. I believe in us. 💜