Why to send more postcards
Art you already a snail mail lover? Or are you new to postcard art? Either way, sending postcards is a fun way to connect with your people and show them some love.
Here are a few reasons to send more postcards.
It's a fun and easy way to get your friends some nice mail for a change.
When is the last time you've opened your mailbox to something fun? Often we open the mail to bills or junk mail. Why not give your pals a nicer mail day? They can open their mail and get a nice surprise with your name on it! Mail art is always a great way to make someone smile.
Postcards are more intimate than email.
Postcards are more intimate than email or a text message, in part because they're a lot less common. By the time you get an email or text, the sender has probably already sent dozens of them to other people and moved on to their next task. A postcard that you've taken the time to select, write on, and send is completely unique.
Plus there's something very tactile about a postcard: it's made of paper. You can decorate it with stickers or drawings or even press flowers on it; your recipient can hold it in their hands and put it up on their fridge. It's a physical connection between you and your pals that no digital format will ever replace (at least for now).
Postcards don't require much writing space, so you can doodle or draw instead.
If you're more of a visual artist, don't be intimidated by blank postcards! A lot can be said without writing at all! Doodles and drawings are a wonderful way to express yourself. The act of doodling has been scientifically shown to help with creativity, memory, and stress reduction—what better excuse to fill the backs of your postcards with random squiggles?
Not sure where to start? The practice of "mail art" involves sending various types of altered art through the mail. It's an inexpensive way to experiment with mediums and share your creations while making someone else's day brighter. Simply draw or paint on the back of your postcard, pop it into an envelope and drop in a mailbox. You even have the option to make wall art out of them once they've arrived at their destinations!
They make great art for your walls.
Postcards are great art for your walls or the walls of friends who receive your postcard. Their small size makes them ideal for a gallery wall. Wouldn't it be wonderful to have a wall of art sent by all your friends?
What are you waiting for? Send a postcard today!
You can find postcards at many stores near you, or you can purchase some from your favorite artists online. Check out the ones I have available in the Soft Heart Studio shop here.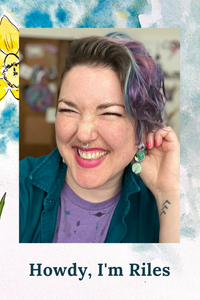 Thank you for being here 👋 I'm a queer artist who has intentionally built a life where I can work remotely and travel the world. Along the way, I'm trying to figure out how to be a good human.

I want to work together to help you create the world you want to live in. I write, make art, and create community spaces for us to to share thoughts, feelings, & opportunities for us to explore together. Being human is hard, but we can make it easier for each other. I believe in us. 💜