Where to get books that isn't Amazon
As Amazon continues to subsume our lives, it can feel inescapable. (And in many ways it is, since much of the internet runs on AWS.) But we can take actionable steps to make sure that other businesses continue to survive and thrive.
So if you're asking yourself, "Where can I buy books that isn't Amazon?" here are a few ideas for you:
Bookshop.org - Bookshop.org was started as a direct way to compete with Amazon's share of the book market and redirect profits back to independently owned bookstores. They share 10% of profits from all books sold with independent bookstores around the country which is a great way to help our indie bookstores thrive. I have a curated shop here with recommendations on topics you might be interested in, or of course browse the whole store. 


Thriftbooks.com - When you don't want something new, grab it used here! Giving books a second life is a great way.


Libro.fm - For about the same price as an Audible membership, you can get a free audiobook each month, AND similar to Bookshop.org, a portion of your membership fee goes toward supporting independent bookstores.
Between these sites, you should be able to find almost anything you're looking for, while supporting independent bookstores or reducing waste by reusing books. Love that for us. 
If you have other places where you like to get books, share them in the comments!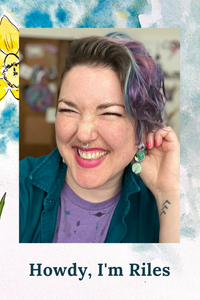 Thank you for being here 👋 I'm a queer artist who has intentionally built a life where I can work remotely and travel the world. Along the way, I'm trying to figure out how to be a good human.

I want to work together to help you create the world you want to live in. I write, make art, and create community spaces for us to to share thoughts, feelings, & opportunities for us to explore together. Being human is hard, but we can make it easier for each other. I believe in us. 💜