Sky Shapes polymer clay earring drop coming soon
After last month's launch of my first heart-themed polymer clay collection, I'm ready to launch another one! This month's release is going to be themed around the shapes we see in the skies, especially this time of the year. We're talking clouds, rain drops, moons and stars -- the stormy winter nights we've been making our way through.
Check out some of the pieces-in-progress:
If you're interested in pieces from this collection, make sure you're signed up to my email list or at least following along on social media, so you'll hear about it right away. Styles will be limited, and pieces tend to sell out quickly.
Looking forward to sharing more of this with y'all!
love,
riles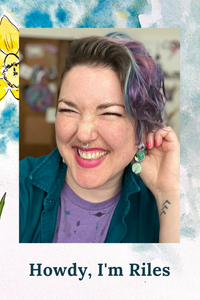 Thank you for being here 👋 I'm a queer artist who has intentionally built a life where I can work remotely and travel the world. Along the way, I'm trying to figure out how to be a good human.

I want to work together to help you create the world you want to live in. I write, make art, and create community spaces for us to to share thoughts, feelings, & opportunities for us to explore together. Being human is hard, but we can make it easier for each other. I believe in us. 💜