Sky shapes earring collection is now in the shop
My second polymer clay collection includes unique necklaces as well as statement earrings. This series is focused on shapes we see in our skies, especially this type of year. Rain clouds, moons, and stars represent our long nights and rainy winters. 
Click here to check out the whole collection, and you can see all the polymer clay accessories currently available here. 
Each piece is handmade in my home studio in Seattle, WA from lightweight polymer clay. I like to work with interesting color shifts that make each piece completely unique. Why have art just for your walls when you could wear it?
I hope you love this collection, and I look forward to hearing what you think! Leave a comment if you have any thoughts you'd like to share 😊

with love,
riles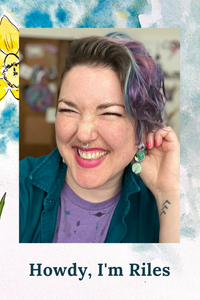 Thank you for being here 👋 I'm a queer artist who has intentionally built a life where I can work remotely and travel the world. Along the way, I'm trying to figure out how to be a good human.

I want to work together to help you create the world you want to live in. I write, make art, and create community spaces for us to to share thoughts, feelings, & opportunities for us to explore together. Being human is hard, but we can make it easier for each other. I believe in us. 💜