Lovely to meet you. I'm Riley Spicer (or Riles, for short). I'm a nonbinary queer artist based in Seattle, but often travelling (and exploring what it means to be a travelling artist/human.) I have a big laugh and soft heart, and I'm here to do what I can to make the world a better place and help others do the same. 
I grew up a shy child who felt more at home with books than people. After much concerted effort, I pushed myself past awkwardness and out into the real world, but my love of books has remained. While many things about being a human in the world change over the years, the very core of the human experience remains the same. Through books we can connect with the wisdom that has been collected over the ages about how to grow our tools for self awareness, connection, intuition, and find balance and contentment. By weaving together the wisdom from different books and sources, we can create our own understand of the world we live in.
But not only do we find human wisdom about personal growth when we read; we also find human wisdom around the need for our collective liberation, both spiritually and materially. The more connected we become with ourselves, the more clear it is how connected we are with each other. We must work together for wider change. Truly effective personal growth is in service of the community as a whole. 
There are so many difficulties we face in the world right now, and we can't overcome them alone. We have to be able to work together in community in order to drive change.
My goal is to help everyone grow the tools they need to be their best selves and be able to work together to build a better world through radical social change. I believe that, as Grace Lee Boggs said, you have to "transform yourself to transform the world." I focus on the intersection of self transformation with the aim of action toward collective liberation. We must find the balance -- we cannot successfully act if we have not done the internal work, but we cannot get lost in the internal work without taking action. I envision a world where we are all able to be who we are without shame and work together to serve and support each other's needs, where we put people before profit, where everyone has access to what they need to not only survive but to thrive. 
I work toward this through creating and sharing thought provoking art both in physical and digital spaces and cultivating community learning spaces like the Soft Heart Book Club, journal prompt series for personal exploration, my Patreon where I share art and we dive deeper each month into a different growth area, and my work with Microverse, a global remote school to help underserved communities connect to life changing careers. Art can help draw us in to the work and inspire us to do our own internal exploration, and then learning in community can help us build the skills and find the confidence to take action toward the future we want to see. 
Soft Heart Studio is a creative studio where I share my watercolor art, collage art, street art (because you never know when the right message will find the right person), but also work in community and with individuals to transform ourselves as we transform the world. Don't let the term "creative studio" fool you. Creativity comes in all forms, including creating social change. 
Here are some places you can follow along with this work:
I look forward to seeing you around and getting to know you. I truly believe that we can create a better world together. I'm glad you're here. 
With love,
Riles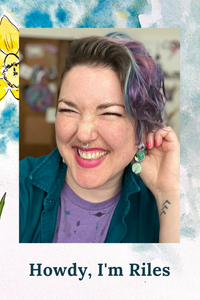 Thank you for being here 👋 I'm a queer artist who has intentionally built a life where I can work remotely and travel the world. Along the way, I'm trying to figure out how to be a good human.

I want to work together to help you create the world you want to live in. I write, make art, and create community spaces for us to to share thoughts, feelings, & opportunities for us to explore together. Being human is hard, but we can make it easier for each other. I believe in us. 💜