Last day to join March's edition of the Soft Surprises earring club!
Join the Soft Surprises earring club by the end of the day today, March 28th, to get in on the shipment going out this month. (Or join any time after to get in on the next month's shipment 💌)
What is the earring club, you ask? It's an opportunity to get a handmade monthly addition to your accessory collection without any extra effort on your part. It will just show up on your door! This makes for a great option for someone who likes small surprises, whether that's you or someone you'd like to gift this to. You can stay signed up for as long as you like, and leave any time: absolutely no strings attached. 
Soft Surprises are often exclusive designs that the club members get before they reach the rest of the shop, and they're going to be lightly customized to suit your tastes. So you'll get a balance of something you're surprised by, but something that you're likely to adore.
Here's a sample of a pair from the February shipment:
This month's theme will definitely be something floral, so if you're a lover of both flowers and surprises, you won't want to miss this!
Click here to learn more about the club, and leave a comment or reach out to me directly if you have any questions. 😘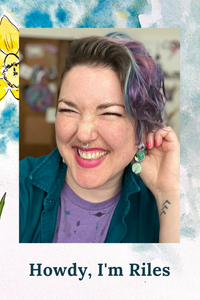 Thank you for being here 👋 I'm a queer artist who has intentionally built a life where I can work remotely and travel the world. Along the way, I'm trying to figure out how to be a good human.

I want to work together to help you create the world you want to live in. I write, make art, and create community spaces for us to to share thoughts, feelings, & opportunities for us to explore together. Being human is hard, but we can make it easier for each other. I believe in us. 💜