January clay collection is LIVE!
I've been hard at work for the last month creating my first collection of polymer clay earrings and accessories, and it's finally ready to go! 
Click here to go check it out, or keep reading if you want to hear a little bit more about the collection. 
So, I've always loved big, bright accessories. I also love surrounding myself with words & stories, ways to communicate to myself and others my intentions in the world and help stay on track. With this first collection, I'm working to combine the two. I've centered on the visual language of hearts as we are, after all, approaching Valentine's Day and much of my art centers around our soft hearts.
I did a lot of color exploration within my core riles colors of pinks, purples, and blues, and I still think I have a lot of work I want to do there. But I also developed a pastel rainbow that I'm using as the core theme for this month. Pastels for the early spring season we're heading into, and rainbows to both provide lots of color options AND celebrate queer love 😘💜🏳‍🌈🌈

This first collection is very earring-heavy, because that what I'm personally most familiar and comfortable with. But for those non-earring-folks out there, I did create a few other things. There are small charms, touchstones that can be turned into keychains or necklaces, and ring dishes that make a perfect addition to your altar decor or bedside table. Each of these have some premade options you can purchase as well as a limited number of slots for custom earrings, pendants, and ring dishes.
Every order placed through Saturday, January 27 will get a free charm! And one lucky person who places an order in the first 24 hours of the launch will receive an extra pair of stud earrings in their order 😘
I'm so stoked about sharing this with you. If you haven't already clicked over, click here to go check it out. And drop a comment if you want to share any thoughts or questions about this collection.
love y'all,
riles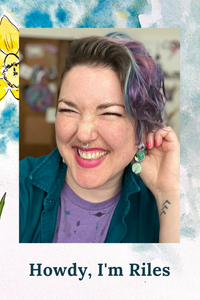 Thank you for being here 👋 I'm a queer artist who has intentionally built a life where I can work remotely and travel the world. Along the way, I'm trying to figure out how to be a good human.

I want to work together to help you create the world you want to live in. I write, make art, and create community spaces for us to to share thoughts, feelings, & opportunities for us to explore together. Being human is hard, but we can make it easier for each other. I believe in us. 💜