January clay collection Coming Soon!
I've been hard at work on my first clay collection, and y'all I am stoked about it. Polymer clay is great for lightweight jewelry, and it comes in vibrant colors that are so fun to mix. This month's collection of statement jewelery has of conversation heart stud earrings (Valentine's Day is coming up after all), some bigger hearts, small ring dishes for your dresser or altar, and even some pendant necklaces. 
I've been really enjoying creating brightly colored pieces with small sayings on them -- I finally got in a set of letters that I waited weeks for, and they were definitely worth the wait.
The trinket dishes (or ring dishes or altar dishes, whatever we want to call them) would make a great addition to your altar, dresser, or bedside table to hold your rings and various knick knacks. I've already sold a couple custom dishes for altars, and I am honored to be able to provide art for someone's sacred space. 
The talisman touchstones are a beautiful mix of color and message. They can either be kept to hang on a wall or keep on a shelf, or I can add hardware for them to be your newest statement necklace. 
The whole collection will be dropping on January 26th, and you'll be able to find it here. If you want to make sure you hear about it, sign up for my mailing list here! I'll send out an email and post on instagram when it goes live. And if you'r interested in a custom piece, reach out and let me know! I would be happy to work with you to create something. 
love,
riles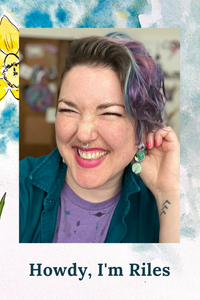 Thank you for being here 👋 I'm a queer artist who has intentionally built a life where I can work remotely and travel the world. Along the way, I'm trying to figure out how to be a good human.

I want to work together to help you create the world you want to live in. I write, make art, and create community spaces for us to to share thoughts, feelings, & opportunities for us to explore together. Being human is hard, but we can make it easier for each other. I believe in us. 💜