How can I help you create the world you want to live in?
Welcome
Are you exploring personal development and want to create the world you want to live in? Do you want to not only know how to find happiness for yourself, but how to make the world a better place? Feeling overwhelmed by the world we live in today, but don't know feel like you have the power to change anything? Do you like art and books and flowers and friends? Well you're in the right place!
I'm Riley Spicer, or Riles, and I want help you create the world you want to live in. I've spent the last ten years working on crafting my own life. I've finally achieving my dream of working a job I love that aligns with my values while traveling the world. But I don't want to just change my own life. I want everyone to be able to live their best lives and for society to make it easier for everyone to find this support. Getting there is a long road. But if we go step by step, I know we can get there through personal growth and intentional social change.
In order to create opportunities for connection and inspire change, I create art, write blog posts, share on social media, and create opportunities for community learning (like my book club). This helps us get inspired and gain the skills we need to change our lives and change the world. 
What can you expect to see if you follow along?
I'm always exploring new places and new ideas. What I have to share will be an exploration as well. But everything centers around my mission to help you create the world you want to live in.
Right now, here are the core topics swirling around my head. You can expect to see me writing about them, creating art about them, talking about them on social media, and creating opportunities for learning and exploration around them, so we can all grow together.
We have to transform ourselves to transform the world
As activist Grace Lee Boggs told us, meaning our personal growth is key to social change. We cannot create an outer world that doesn't map to our inner world. So we must get our inner world in order. This means practicing intentional personal development, but without losing sight of the wider aims of creating wider social change. We must liberate ourselves, so that we can then liberate others.
Reading helps us connect to wider human wisdom on our personal growth path.
I've always loved a good book. I rearrange lines from books to make art, exploring how everything has been said before, but we can still make it our own. My monthly book club helps us learn from the wisdom of others, together. I recommend books that I'm reading and loving here on my blog. Books will always be a way that I find connection with other humans, and I love sharing that with y'all.
To drive our personal development or change the world, we have to step into our creative power
A lot of people get the message early on that they are not creative. Often we associate "creativity" with drawing or visual arts. But I believe in an expansive definition of creativity. Any act of creation, of generation, is creative. You are most definitely creative. When you realize that to learn how to be more creative, you just need to let yourself create, it changes your life. So I want to create pathways for you to explore your own creative power.
To create the world you want to live in, we have to have a vision of the world we want to see.
This means it's important to practice thinking critically about the world today, understanding what isn't going well and why, and painting a vision for the future. To that end, I explore social issues of today and ideate on what a different vision could be.
And as we explore the inner world, I'm also exploring the outer world.
I'm currently a full-time traveler exploring different parts of the world, so I'll share some of that with y'all as well. Exploring different places is an opportunity to see how humans organize themselves in different ways, learn from different people, and connect with humans creating their lives all over the world.
How to stay in touch
If that all sounds like your vibe, then stay in touch! My social links are all in the sidebar, and I'd love to see you wherever you like to engage with the social internet. And don't forget to join my email list, so we can connect outside the algorithms.
Drop a comment with one thing you'd like to change about the world, and we can talk about how to make that happen!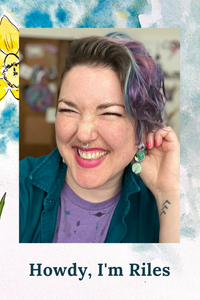 Thank you for being here 👋 I'm a queer artist who has intentionally built a life where I can work remotely and travel the world. Along the way, I'm trying to figure out how to be a good human.

I want to work together to help you create the world you want to live in. I write, make art, and create community spaces for us to to share thoughts, feelings, & opportunities for us to explore together. Being human is hard, but we can make it easier for each other. I believe in us. 💜