Floral earrings coming soon
Since I started working with polymer clay at the beginning of this year, I knew I wanted to be making floral pieces to align with the exploration of the natural world that I've been doing via my watercolor paintings and monthly art zine over on Patreon. 
This month, it's happening! My first collection of floral polymer clay earrings will be released on Sunday, March 28th at 12pm. (But if you're a patron on Patreon or you're signed up for my mailing list, you'll hear about it a little bit in advance, so you'll be able to snag a piece you love!)
Here are some sample pieces from the "Pink Night" colorway. These pink flowers pop out from the background, and the texture is even better in person. They're each handcrafted and cut from a shared slab, so the colors and shapes are similar, but no two pairs are exactly alike. 
This initial launch will just have a few colorways in this floral style, as well as some new statement earring shapes that I'll share with y'all soon.
Check out my instagram
to stay up to date on the pieces going into this collection! I'm really excited to share these with you. 
with love,
riles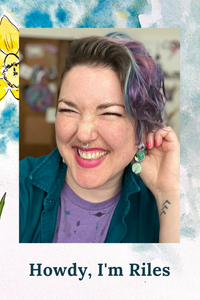 Thank you for being here 👋 I'm a queer artist who has intentionally built a life where I can work remotely and travel the world. Along the way, I'm trying to figure out how to be a good human.

I want to work together to help you create the world you want to live in. I write, make art, and create community spaces for us to to share thoughts, feelings, & opportunities for us to explore together. Being human is hard, but we can make it easier for each other. I believe in us. 💜