#SoftHeartSessions - Create your new year - Day 21
Welcome to the last day of Create your new year, a series of #SoftHeartSessions daily journal prompts made to guide you through your next stage of growth. You can find the whole series here, or go back and start from Day 1.) Remember that if you miss a day, that's okay -- we are all human after all, and the best thing we can do is expect mistakes, learn from them, and move on 💜
Congratulations for making it through the series! I hope you feel more focused and confident to take some next steps on your path toward creating the world you want to live in. I would love to hear any feedback you have about this series in the comments here or any other way we interact. Thank you for trusting me with your time, and I hope you found this valuable.
Now, find yourself 15 minutes and some space to write or record yourself as you work through today's prompt. (Hopefully now that you're in the habit, you can make this time for yourself moving forward as well.) 
Thank you again for your time. I look forward to whatever you create in the world.
with love,
riles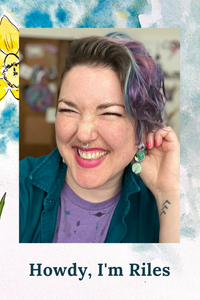 Thank you for being here 👋 I'm a queer artist who has intentionally built a life where I can work remotely and travel the world. Along the way, I'm trying to figure out how to be a good human.

I want to work together to help you create the world you want to live in. I write, make art, and create community spaces for us to to share thoughts, feelings, & opportunities for us to explore together. Being human is hard, but we can make it easier for each other. I believe in us. 💜