#SoftHeartSessions - Create your new year - Day 2
Time for Day 2. (If you missed Day 1, go back and check it out.) For the next three weeks, each day you'll get a new prompt to help you explore your cares, cultivate your creativity, and grow your confidence in taking the next steps toward turning your vision into a reality.
Remember that if you miss a day any time, that's okay, just start again -- we are all human after all, and the best thing we can do is expect mistakes and just work through them. 💜
Now, find yourself 15 minutes and some space to write or record yourself as you work through today's prompt.
Leave a comment if you have any thoughts you'd like to share about what your explore with today's prompt. And if you aren't signed up to receive the whole series directly to your email, sign up here, so you can get each prompt emailed directly to you and won't miss any days. 💜
If you'd like to work through these prompts in a more social space, you can join the Soft Heart Society Discord group here. The Soft Heart Society is an open group I run for caring creatives, and within it we have a section for folks participating in Soft Heart Sessions, so you can share about any feelings the prompts have brought up for you and have folks who have also worked through them to chat with. You're welcome any time 💖
with love,
riles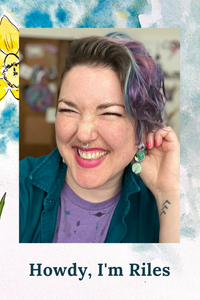 Thank you for being here 👋 I'm a queer artist who has intentionally built a life where I can work remotely and travel the world. Along the way, I'm trying to figure out how to be a good human.

I want to work together to help you create the world you want to live in. I write, make art, and create community spaces for us to to share thoughts, feelings, & opportunities for us to explore together. Being human is hard, but we can make it easier for each other. I believe in us. 💜